Shape your Custom Metal Parts like the Pro's do!
Click Here For English Wheel Kits
Click Here For English Wheel Parts
Build your own high quality English Wheel for under $150 in materials & parts!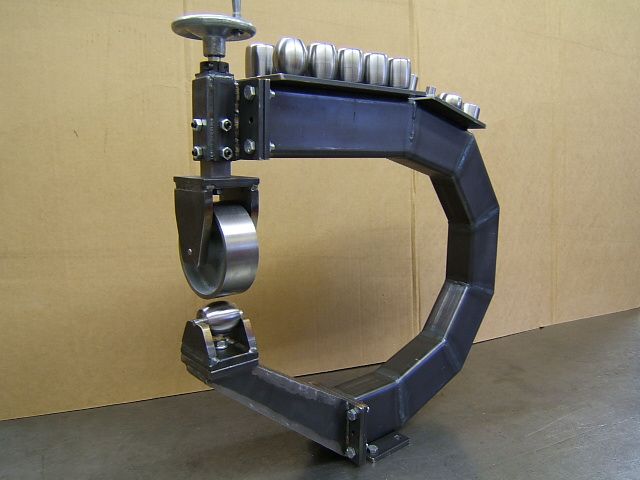 Manufactured by Desert Hybrids Precision Engineered Products, this professional set of plans and manual provides all the information you will need to build and set-up your own high quality English Wheel!
3 Different Frames - Light Duty, Medium Duty or Heavy Duty
Upper Wheel - Cast Iron, Forged Steel, or Heat Treated Tool Steel
Lower Anvil Wheels - 16 Different Profiles
Precision Ball Bearing Axles
Precision Upper Wheel Adjuster Mechanism
Modular Lower Frame Arm
Scalable Dimensions for Larger Designs
Heat Treating
Surface Hardening Techniques
Fixtures to Machine Upper Wheel & Anvil Wheels
Greater Versatility - Portable or Bench Mounted!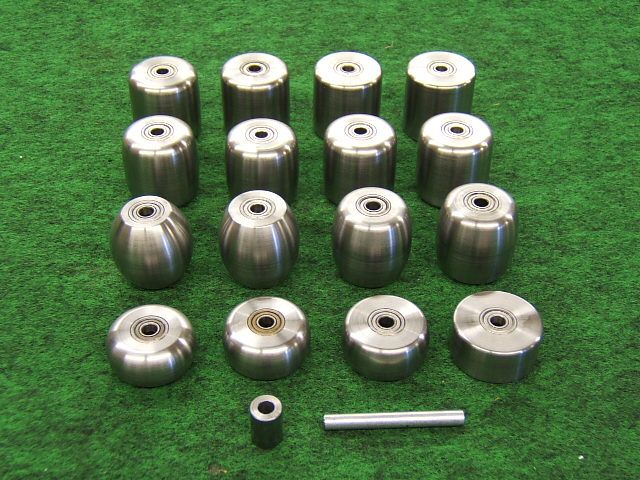 You will need a high quality, heavy duty, and versatile English Wheel to build, shape, and planish your Custom Chopper Parts, Hot Rod Parts, Auto Body Patch Panels, and Customize or Restore your Classic Car. This set of plans will enable you to fabricate a professional quality English Wheel that allows you to precisely shape or smooth your metal parts.

This set of plans and construction manual will allow anyone with basic machining and welding skills to build this English Wheel (including the 16 Lower Anvil Wheels) for less than $150 parts & materials cost! The English Wheel is constructed from commonly available materials and parts. This construction manual includes a complete description of all the required parts as well as suppliers, part numbers and prices for all of the parts. There are detailed CAD drawings for all parts and assemblies, as well as many photos of the individual parts and assemblies.

The Assembly Notes at the end of the manual include many important details about building, assembling, and adjusting the English Wheel. The English Wheel CAD drawings shown in this manual are also included as separate pdf files for increased clarity at higher resolutions.


These plans include over 150 full pages of CAD drawings, high resolution color photos, and text describing in great detail every aspect of building and setting up the English Wheel.
English Wheel Specs
Frame Wall Thickness vs. Rated Capacity
1/8" wall thickness – 20 gauge CR steel/18 gauge aluminum
3/16" wall thickness – 18 gauge CR steel/16 gauge aluminum
1/4" wall thickness – 16 gauge CR steel/14 gauge aluminum


Throat Depth: 16 3/4"
Frame Height Inside Dimension: 12"
Upper Wheel: 4" OD x 1.5" wide

Upper Wheel Adjustment Range
5/8" up/down travel
0.050" travel per revolution of hand wheel
Upper wheel assembly rotates 360 degrees


Anvil Wheels: 1.5" OD x 1.5"wide - 12 different profile sizes - 1.0"R to 20.0"R
Anvil Wheels: 1.5" OD x 0.75" wide - 4 different profile sizes - 0.5"R to 0.75"R
Anvil Wheel Assembly rotates 360 degrees
Overall Dimensions: 18" high, 4" wide, 21" deep
Weight: Approx. 40 to 50 lbs.


Now Available on CD in PDF Format
The Desert Hybrids English Wheel Plans are supplied on CD in PDF format. By either using the free Adobe Acrobat Reader or taking the CD to your local Fast Print Shop, you can print as many copies as you need as large as you need!
$44.99
plus $4.99 S/H